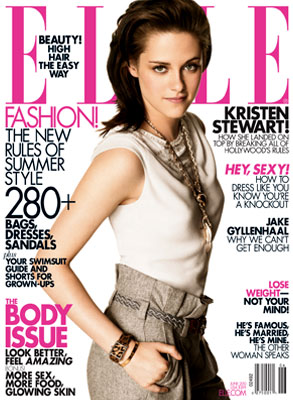 I want to start out by saying that I'm really not fond of Kristen Stewart. She's very pouty & I don't think she can act (plus Twilight was just too teenage-emo for me. lol). So I won't be reviewing her interview, since I skipped it.
The standouts in this issue were *definitely* the articles. SO SO many good ones!! Here's a list:
~ The Body Issue
Find Your Bliss
Peak Performance (science & sexual healing)
Satisfaction Guaranteed (eating more = never dieting again)
Saving Face (popular diets & how to adjust them to help your complexion)
Happy Meals (7 mood foods)
Follow Your Gut (how food drives mood, outlook & happiness)
Brain Train (workout to be quick-witted)
The Shape of Things to Come (new realistic weight ideal?)
Show & Tell (lingerie)
Massage
~The Parent Trap (should men have the right to choose?)
~Access Hollywood (celeb crush turns into a IRL romance)
~ I'm OK, You're a Disaster (divorce chick-lit)
Also the Fall 2010 Runway Report (lots of neutrals, very demure & ladylike) & the Swim Guide (categorized by beach - Newport, Jersey Shore, Cape Cod, etc).
Get it for the articles!!