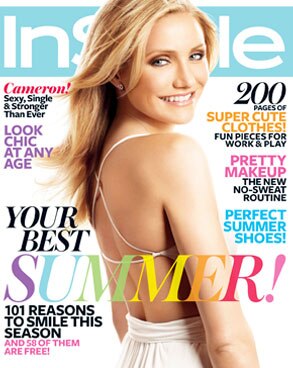 Not as good as I have come to expect from InStyle but I guess its still worth getting. The highlights:
Fashion - Her 10 Best Ever! Megan Fox, Man of Style Stephen Moyer, cute random pieces & looks
Beauty - Heat & Humidity-proof makeup, Hot & Not Bothered(summer beauty issues like sand sticking to sunscreened skin, blotchy self-tanner, etc)
Other - 101 Reasons to Smile This Summer (wedges, teal eyeshadow/liner, the World Cup, 3 cocktail recipes, Angelina Jolie in Salt, bright lipgloss, etc) & Summer Party ice cream (twists on homemade ice cream sandwiches, gourmet sundaes).