When I first started watching my weight I posted about the food I ate frequently that fit in with my diet. (You can see the post here: http://thelifeofamelie.blogspot.com/2010/05/obsession-phase-healthy-food.html ) Well, I've recently found some new loves & thought I should share them with you.
Crunchmaster Multi-Grain Crackers.
BF bought a big box of these at Sam's Club, I tried them & fell in love! They are a great salty fix, filling & are only 10 calories each (each cracker is about 2" big). I eat them quite frequently since I can only eat 4 or 6 & fit that into my daily calorie count easily.
Swiss Miss Fudge Bars
Only 100 calories each but quite a decent size. Guilt-free ice cream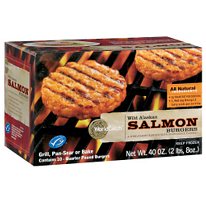 World Catch Salmon Burgers
Another Sam's Club find (makes me wonder what kind of goodies we'd find if we had a Costco membership). Healthy, not too fishy. We like to eat them on the Oroweat Thin Rounds (I posted about them last time) w/spinach, tomato & dill mayo.
Luna Bars
I've been eating these for awhile. I always have one in my bag in case I'm out somewhere & get hungry (I get really shaky & sick when I feel hungry). At around 180 calories, these are nice for a snack when you don't feel like putting much thought into what you want to eat. I usually grab a variety from the boxes at the grocery store. They tend to be $.89-1.00 each. My fave flavor is Chocolate Raspberry.
NOTE: Another really yummy bar is the Clif Mojo trail mix bar in Mountain Mix. Has peanuts, pretzels, almonds, raisins & chocolate chip. It's also only 180 calories.
Mini Babybel Light cheese
At first I hesitated to try these because at $4-5 for 6, they were quite pricy. But then I found them at Sam's for $9 for 24, which is a great deal. These are 50 calories each & kinda taste like mozzerella. Individually wrapped so great to grab & go
Yoplait Greek yogurt
I was eating Chobani greek yogurt w/fruit but found that I preferred my yogurt plain w/a bit of honey. The main reason I chose this one is because it $1 for a 6 oz container at Walmart, which is the cheapest of the available kinds at that store.
Skinny Cow Peanut Butter & Chocolate Ice Cream Sandwiches
These are delish! 150 calories each
Pepperridge Farm Geneva cookie
This is my go-to cookie. If you only eat one (which is difficult), it's only 40 calories.
Werther's Original hard candy
I have quite a sweet tooth & having a cookie or a piece of chocolate a few times a day (even if only 40 calories each) does add up. Just 1 of these is around 25 calories, which is a bit better